33 Broad Street, Boston, MA

Soon after forming Fairlane Properties in 1997, Michael Grill contacted MGI Properties, a NYSE REIT and former client, about 33 Broad Street. MGI had purchased the 37,662 square foot property in 1994 and was facing capital improvements and leasing challenges, including the potential loss of 60% of leases expiring in 1999. Operating expenses had ballooned during renovation projects, and potential buyers were unlikely to reduce these expenses in the underwriting of the property.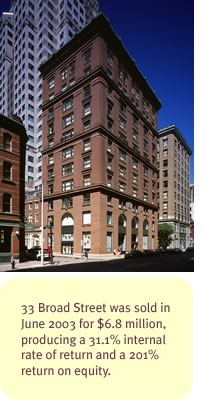 In the coming months, the property was not offered to sale to the marketplace. Building information was provided, however, to Fairlane, who closed on the sale for $3.15 million in October 1997 with debt financing of $2.525 million and equity capital of $1.275 million from eight investors.

Fairlane completed capital improvements to the lobby, roof, cooling tower, façade and construction of a handicapped-accessible restroom. Interior common areas were redesigned, transforming the property into a sophisticated professional environment with renovated lobby and refurbished elevators. Fairlane also reduced operating expenses by 18% between '97 and '98. Six of the eight tenants with expiring leases renewed. Capital improvements, tenant improvements and leasing commissions of $480,000 were budgeted with a total project budget of $3.8 million.

The 1997 business plan for 33 Broad Street called for a refinancing of the property in 2001 with a 50% return of equity. In January 2000, 47% of investor contributions were returned as part of a short-term financing. The remaining equity was returned with the placement of long-term financing in March 2001 with an additional 45% in excess proceeds returned to investors at that time. From 1998 to 2003, the building's floors were remeasured, increasing the total rentable square footage to 40,680.