Consulting Services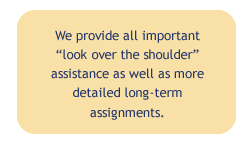 Fairlane Properties provides consulting services, including acquisition analysis, due diligence assistance, project management services, loan analysis, lease restructuring, and alternative use studies. Our experience with the long-term ownership of numerous real estate projects provides Fairlane with a unique perspective not usually offered by typical real estate consultants. We have first-hand experience with many of the same issues faced by clients. For our consulting clients, which include some of our existing investors and lenders, we provide all-important "look over the shoulder" assistance as well as more detailed, long-term assignments. Our objective is to leverage our experience for the direct benefit of our clients.
Acquisition Analysis
We have provided our 25 years of acquisition experience to prospective investors ranging from tax-deferred exchange buyers to buyers of office, retail, R&D, industrial, parking and storage properties.
Due Diligence Assistance
Fairlane Properties can provide prospective buyers with a full scope of services using the same detailed analysis that we perform on our own prospective acquisitions — from investigation of environmental issues to review of building systems to analysis and budgeting of capital and operating costs.
Project Management Services
With project management experience for over $8 million of capital and tenant improvements, for our clients we have managed tenant buildouts, reviewed tenant building plans and specifications, provided project specifications, worked with contractors and architects to develop building plans, and punch-listed ongoing capital projects.
Loan Analysis
Working directly with lenders, we have assisted in the evaluation of troubled loans, from the current market value and rent in specific locations to the intricate relationships between property owners and tenants. Because of our extensive network of local brokers and experience with a wide variety of property types, Fairlane Properties can assist lenders in providing a qualified, big-picture perspective.
Lease Restructuring
Troubled times may lead to the necessity of working with tenants to renegotiate leases, especially those with complex relationships between tenants, subtenants and guarantors. Our vast experience in drafting our own leases and in lease analysis enables us to guide our clients. We have the expertise to evaluate a wide range of tenant issues and find solutions for tenants and landlords.
Alternative Use Studies
One of the most critical questions facing owners in this turbulent period: Is it time to develop an alternative plan for a property with an expiring tenancy? We can assist property owners in formulating plans for renovation, change of use or new development.
Please call us to discuss using our expertise to your advantage.